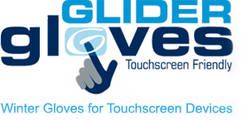 January 17, 2013 09:07 ET
Glider Gloves Are Touchscreen Compatible Gloves; Glider Gloves Will Be Gifting Touch Screen Gloves to Celebrities, Industry Professionals, and Taste-Makers at the Associated Press Gifting Suite at the 2013 Sundance Film Festival
PARK CITY, UT–(Marketwire – Jan 17, 2013) – Glider Gloves are a revolutionary new product that is getting a huge buzz in Park City. While most gloves limit your use of touchscreen electronics, Glider Gloves are the "must have" accessory for anyone inconvenienced by weather. Glider Gloves are touchscreen compatible gloves — or conductive gloves — and sometimes even called iPhone gloves. They are winter gloves for touch screen devices. They allow you to keep your fingers warm while still maintaining the ability to use your touchscreen device with accuracy and precision on all fingers while using your entire hand.
While regular gloves are rendered useless with touchscreens, Glider Gloves work flawlessly with almost every touchscreen. Glider Gloves are thermally-insulated touchscreen compatible winter gloves that provide AMAZING touch response along your entire gloved hand, not just your finger-tips. Glider Gloves are constructed from a blend of synthetic thermal micro-fibers, conductive yarns, and a light stretch, AND they are 100% vegan-friendly and do not contain any animal products! They provide amazing comfort, protection, an anti-slip grip, a product tag that doubles as a screen cleaning cloth, and suitable hand dexterity for everyday outdoor tasks.
Sundance Film festival is home to thousands of established and aspiring professionals in the film industry and is the "destination to see and be seen" in January. We anticipate Glider Gloves will be the talk of the Sundance Film Festival this year. Glider Gloves will be gifting touch screen gloves to celebrities, industry professionals, and taste-makers at the Associated Press Gifting Suite hosted at the Fenders Music Lodge during the Sundance Film festival 2013.
About Glider Gloves
Glider Gloves was established in 2010 in Toronto, Canada. The primary purpose of the business was to meet the growing demand for the gloves-to-touchscreen problem. As a Canadian company, they knew the importance of making gloves that not only worked well, but were also warm. The Glider Gloves company are heavy users of the most up-to-date technology and use their knowledge for practical applications. The company is focused on lean operations, cloud-based administration, and 100% focus on product and their customers. With a wide range of skills and background, Glider Gloves strives to always have the best product on the market. Website:www.GliderGloves.com Twitter: http://twitter.com/GliderGloves
Contact Info: