For Immediate Release
10-year-old boy wants to tell an old man that he's secretly in love with him
Cannes, France May 18, 2012 – This is the premise of short film Alone with Mr. Carter, written and directed by one of Quebec's top actors Jean-Pierre Bergeron. It is currently at Cannes' Short Film Corner. Alone with Mr. Carter got terrific reviews in Quebec and is selected to screen at various American festivals and events this summer. All through 2012, other festival selections will be announced worldwide.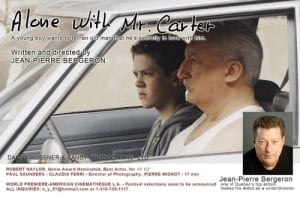 "Extremely touching"  RDI TV
"A film of great sensitivity"  VOX TV
"A delicate subject, but Jean-Pierre Bergeron knows how to avoid clichés and bad taste." LE QUOTIDIEN
Photo: Chris Kralik
Robert Naylor and Paul Saunders in Alone with Mr. Carter
In 1997, the year Ellen De Generes comes out, John is 10 and dreams of becoming a cop. He wants to confide in his neighbor, Mr. Carter, that he is secretly in love with him. Time is of the essence as the 65-year-old hetero detective is going away forever.
A lot of good films have been coming from Quebec over these past couple of years. Monsieur Lazhar and Incendies were both nominated for Best Film in a Foreign Langage at the Academy Awards. Shot in English, Alone with Mr. Carter (17 min) is the debut of Quebec icon Jean-Pierre Bergeron as a writer/director. After 40 years of playing cops and robbers and various authority figures, Quebec name actor Jean-Pierre Bergeron finally came out to the media in Quebec and also at the film's World Premiere at the American Cinematheque in Los Angeles. For years, he didn't write/direct as the characters he had in mind were often homosexuals and the prospect of coming out seemed too much of an emotional challenge. He is considered the first Quebec actor usually cast in typical masculine roles to ever come out to the media.
Jean-Pierre Bergeron also has various U.S. credits, having appeared on Alias, American Dreams, The Young and the Restless, The New Poseidon Adventure, etc. A turning point in his life was playing the blue collar Dad of out gay teenager Mark Hall in Prom Queen, that aired on CTV, LOGO and many outlets a few years ago. He got great reviews and was nominated for a Gemini Award in Toronto. However, not coming out to the crew felt really uncomfortable at the time: "I felt awful about being closeted."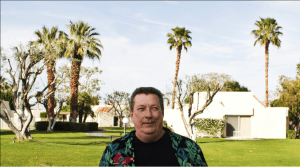 Photo : Penelope Fortier
Jean-Pierre Bergeron
Jean-Pierre Bergeron says he made this film because he'd never seen on screen the story of a little boy having sexual and romantic feelings for an adult man, although there have been films portraying little boys who feel the same way for adult women. "In Fellini's 8 ½, the boys pay the Saraguina to dance for them. As for songs, well… I was raised with Dalida singing Bambino, about a little boy who desperately falls in love for an adult woman. Growing up, I had secret feelings for adult men. Of course I knew it wouldn't lead anywhere. If only because I was a kid, I knew it wasn't supposed to lead anywhere.  But the feelings were there.  As an echo to the equality conversation of today, wouldn't you agree they were just as valid as the feelings of a little boy for an adult woman?  Yet, over the years, I had never been able to find a film that dealt with this.  Maybe there were, but I was not aware of them. That's why it mattered to me to tell this story." He is looking for financing for Flowers, a feature that is also semi-autobiographical.
Alone with Mr. Carter stars young Robert Naylor (Genie Award Nominated 2011 and L.A. Young Artist Award Winner 2011 for 10 ½)  Paul Saunders (In the Bag) and Claudia Ferri (The Killing). Director of photography is Pierre Mignot (Prêt-à-porter, J.A. Martin photographe). It is produced by Danny Rossner and Sandy Productions Ltd.
ALONE WITH MR. CARTER'S Tracking Number in CANNES: SFC12-21767
SALES AGENT: SANDY PRODUCTIONS
1-310-739-1117
###